2014-01-27
Arabica Roasters: Fair Trade Coffee in China
Since we opened our roasting facility in 1994, Arabica Roasters has always been dedicated to making coffee that people love to drink. At the same time, environmental protection and humanitarian causes have also been central to our business operations. For this reason, Arabica Roasters has sought to support such non-profit organizations such as the Jane Goodall Institute China through initiatives such as our Green Luxury project. (
Click here to read more about this.
)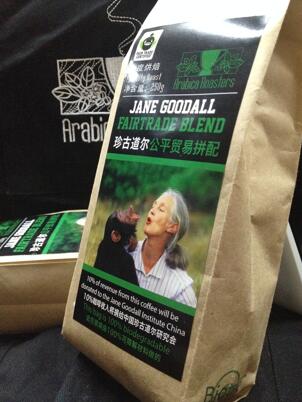 Jane Goodall Fair Trade Coffee Blend by Arabica Roasters
What is Fair Trade? Who Benefits from Fair Trade?
Fair trade means doing business in a way that benefits everyone, including the producers, purchasers and consumers. This idea can be boiled to down to a few fundamental concepts:
Fair Price
Farmer groups receive a guaranteed minimum floor price and an additional premium for certified organic products.*

Fair Labor Conditions
Workers on Fair Trade farms enjoy freedom of association, safe working conditions, and living wages. Forced child labor is strictly prohibited.

Direct Trade
Importers purchase from Fair Trade producer groups as directly as possible, eliminating unnecessary middlemen and empowering farmers to develop the business capacity necessary to compete in the global marketplace.

Community Development
Fair Trade farmers and farm workers invest Fair Trade premiums in social and business development projects like scholarship programs, quality improvement trainings, and organic certification.

Environmental Sustainability
Harmful agrochemicals and GMOs are strictly prohibited in favor of environmentally sustainable farming methods that protect farmers' health and preserve valuable ecosystems for future generations.
*Note: All green beans (fresh, unroasted coffee beans) purchased by Arabica Roasters through Fair Trade organizations have also been certified as organic by overseas organizations, such as EcoCert and USDA.
Read more about "organic coffee" here.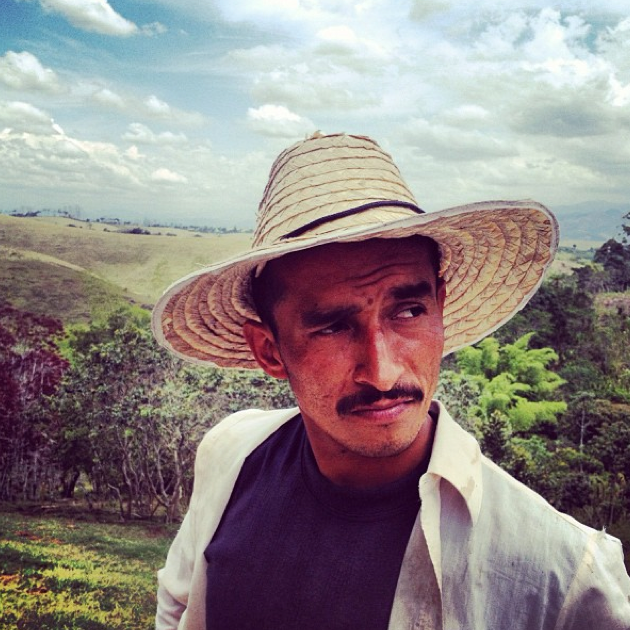 Jose Antonio Benevides
--4th generation Colombian coffee farmer, 1st generation FT farmer
Source: http://www.flickr.com/photos/fairtradecertified

Fair Trade Success Story: Mexico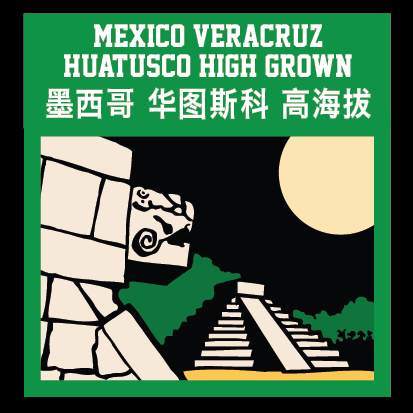 Click through to product page

In 1992, after experiencing several unsuccessful government and development agency projects aimed at assisting coffee producers, a group of small-scale coffee farmers in Huatusco, Mexico decided to take responsibility for lifting their community out of the extreme poverty they faced. They formed the Unión Regional de Pequeños Productores de Café (Huatusco) with the goal of collectively finding new and better ways to cultivate and market their coffee. Thanks to its success in making a direct connection with specialty markets in the U.S. and Europe, the cooperative now has 1,908 small farmers among its members, including 600 women.

Increased revenue from Fairtrade coffee sales has enabled the co-op to:
•Establish education facilities in rural areas
•Build regional healthcare centers for several villages
•Expand their processing plant through the purchase of 12 de-pulping machines, two drying ovens, and several ventilators
•Establish model gardens that teach members about the benefits of crop diversification
•Fund a reforestation program, which includes training in shade tree cultivation and terracing to prevent erosion
•Improve and expand its organic program to train 470 members in organic production techniques
• Finance community development projects, including local road repairs
• Reduce migration to urban areas
Fair Trade logos--what do these mean?
Presently, Arabica Roasters is a registered member of both the Fair Trade Labelling Organization ("FLO"), which is based in Germany, and Fair Trade USA ("FT USA"), which is based in the United States.




Fair Trade USA

Based in the United States

Mission:
Fair Trade USA enables sustainable development and community empowerment by cultivating a more equitable global trade model that benefits farmers, workers, consumers, industry and the earth.

Mission:
Fair Trade USA enables sustainable development and community empowerment by cultivating a more equitable global trade model that benefits farmers, workers, consumers, industry and the earth.

Arabica Roasters FT USA ID #: 1034576
If you are interested in checking our Fair Trade status online, FLO has provided an operator search function, available here:
http://www.flo-cert.net/flo-cert/113.html
.
At this time, to our knowledge, we are the only certified roaster of FLO Fair Trade coffees in China. We were the first certified FT USA roaster, but are not sure that we still are. The certification process for FLO is more stringent than FT USA. For the time being, we can use either of the certification labels on our packaging.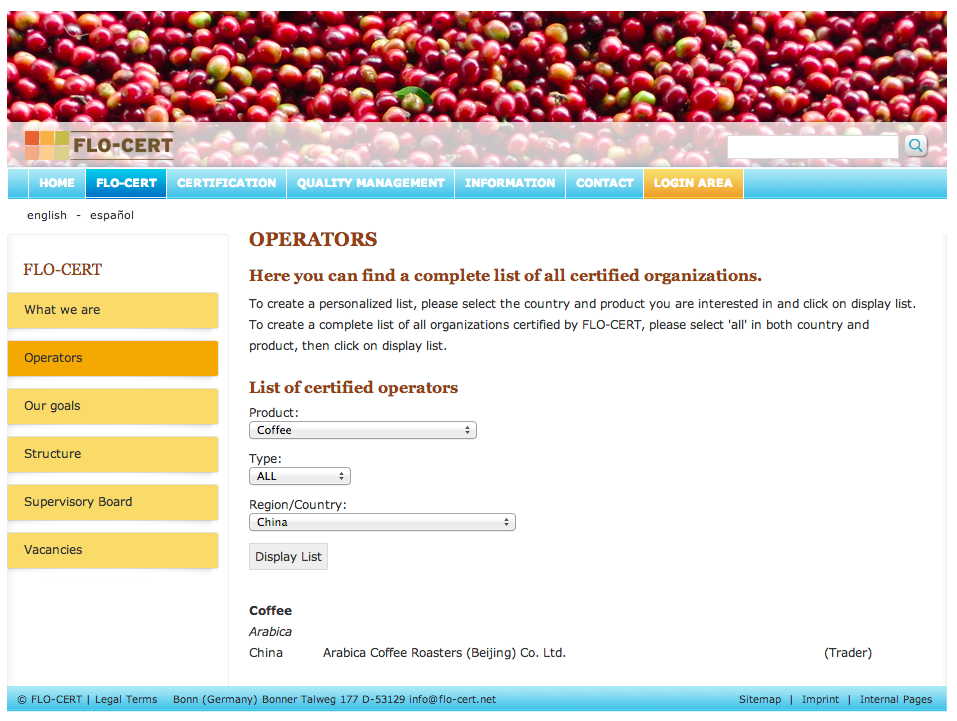 Arabica Roasters is China's first (and currently, the ONLY) certified operator of Fair Trade coffee. Source: FLO-CERT Website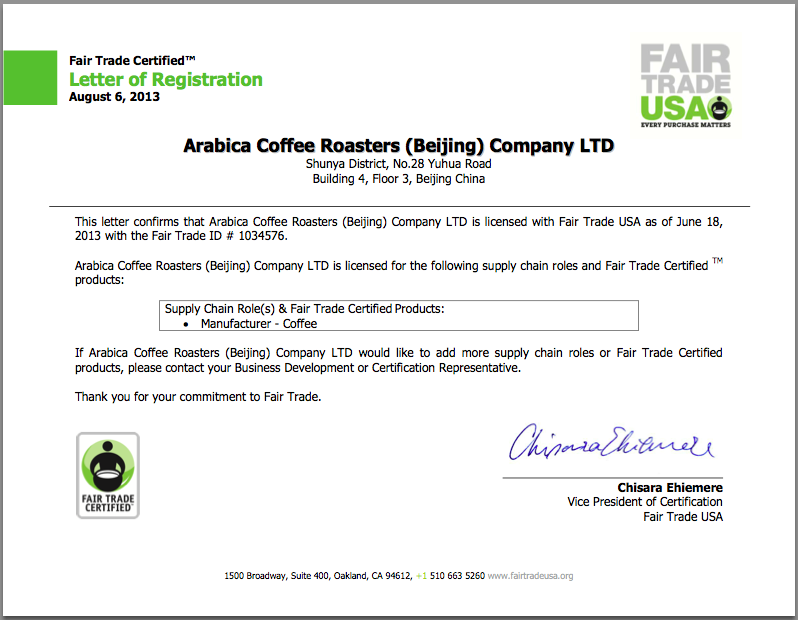 Letter from FT USA to Arabica Roasters
Regarding the use of Fair Trade logos for our customers, FLO expects that everyone in the "supply chain" who wants to use their logo to be registered with them. If you want to use their logo on your own materials, we recommend that your team check their rules on this and/or contact them to confirm how to do so. FT USA has a different set of rules on this subject. You can check those out on their website for their details.